Finally had a chance to button up all the carbs and get the pack rebuilt.  My attempts to fix the stripped air mixture screw all went poorly, so ultimately I picked up a replacement off of Ebay and cleaned it up.  Things are looking pretty clean and came together quite well.
Placing the carbs back on the bike went pretty well and I just had to test it.  I put some fuel in and checked for leaks; happily everything seemed to be holding pretty well.  Started up the engine (with my fingers crossed) and things fired up, but still having issues with carbs 3 and 4.  Doing a temperature test at the headers, cylinders 1 and 2 read around 250+ degrees F while cylinder 4 was at 83 degrees F.  Not good.
After stepping back and trying to figure out the next plan, I decided to go ahead and revisit the compression and ignition.  To rule out "no spark" problems, I went ahead and did an ignition test as well as a spark test; both seemed to pass for all for spark plugs.  Pulling them I did notice that cylinder 3 and 4 were both "wet" compared to 1 and 2.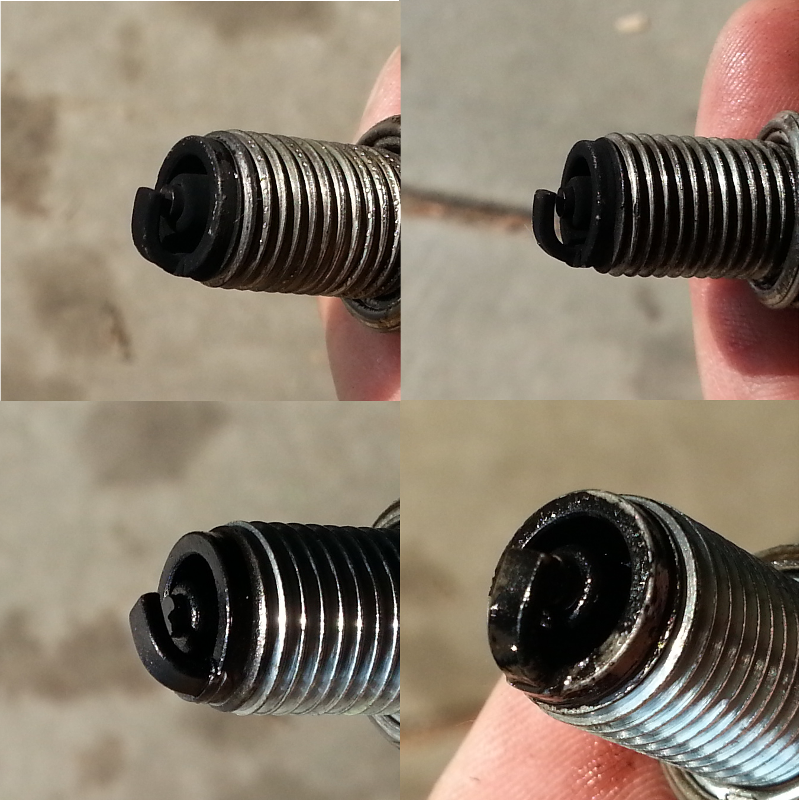 Next up was the compression test.  The Clymer manual says to try a normal compression test (crank the engine a few times) and a wet compression test (add a tablespoon of oil to the cylinder and retry the compression test).  I found the following:
| Cylinder | Dry Compression (psi) | Wet Compression (psi) |
| --- | --- | --- |
| 1 | 120 | 210 |
| 2 | 97.5 | 270 |
| 3 | 105 | 150 |
| 4 | 97.5 | 165 |

The low compression readings seem to be within reason (the Clymer manual says that ~100psi is good enough to get the engine going), but the worry is that with the additional oil, cylinders 3 and 4 didn't significantly change.  This could point back to needing to finish the valve shim adjustment I mentioned in an earlier post.  Perhaps in doing that I can correct some of these compression issues.  To do so, I'll need to order the following 25mm valve shims:
| Shim Thickness | Number |
| --- | --- |
| 2.6 | 2 |
| 2.65 | 5 |
| 2.7 | 5 |
| 2.75 | 1 |
| 2.8 | 1 |
| 2.85 | 1 |

After putting all the spark plugs and re-wiring, I decided to fire the bike up one more time (this time with the oil still in the cylinders).  I expected quite a bit of smoke, which is what I got, but was also pleasantly surprised to notice all 4 cylinders seemed to be firing.  Seems the added compression from the oil has helped a bit; furthering the idea that the next step is to finish the valve adjustment.